Blue Pearl – Marcha van den Hurk
Details
Commissioned by
The Hague University of Applied Sciences
Role
Curator / Photographer
Concept
Welmer Keesmaat and Johan Nieuwenhuize
Artist Marcha van den Hurk collaborated with 250 students from The Hague University of Applied Sciences on her artwork Blue Pearl.
Together with the artist and graphic designer Welmer Keesmaat, Johan Nieuwenhuize produced an artist publication about the participatory process of the creation of Blue Pearl.
For this publication writer Joris Kelderman followed he process of the making of the work. His text can be read below.
The publication was issued in a limited edition of 200.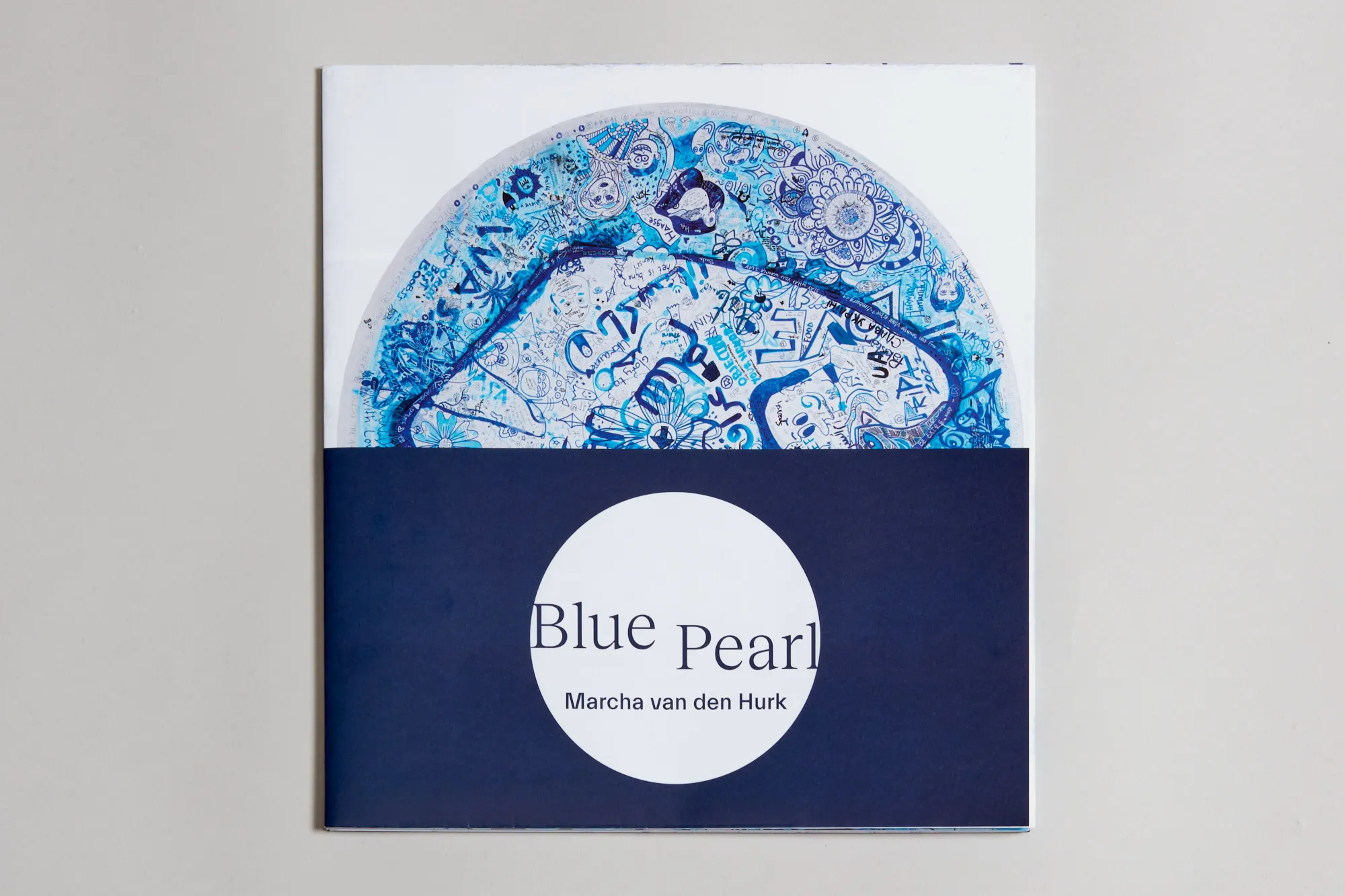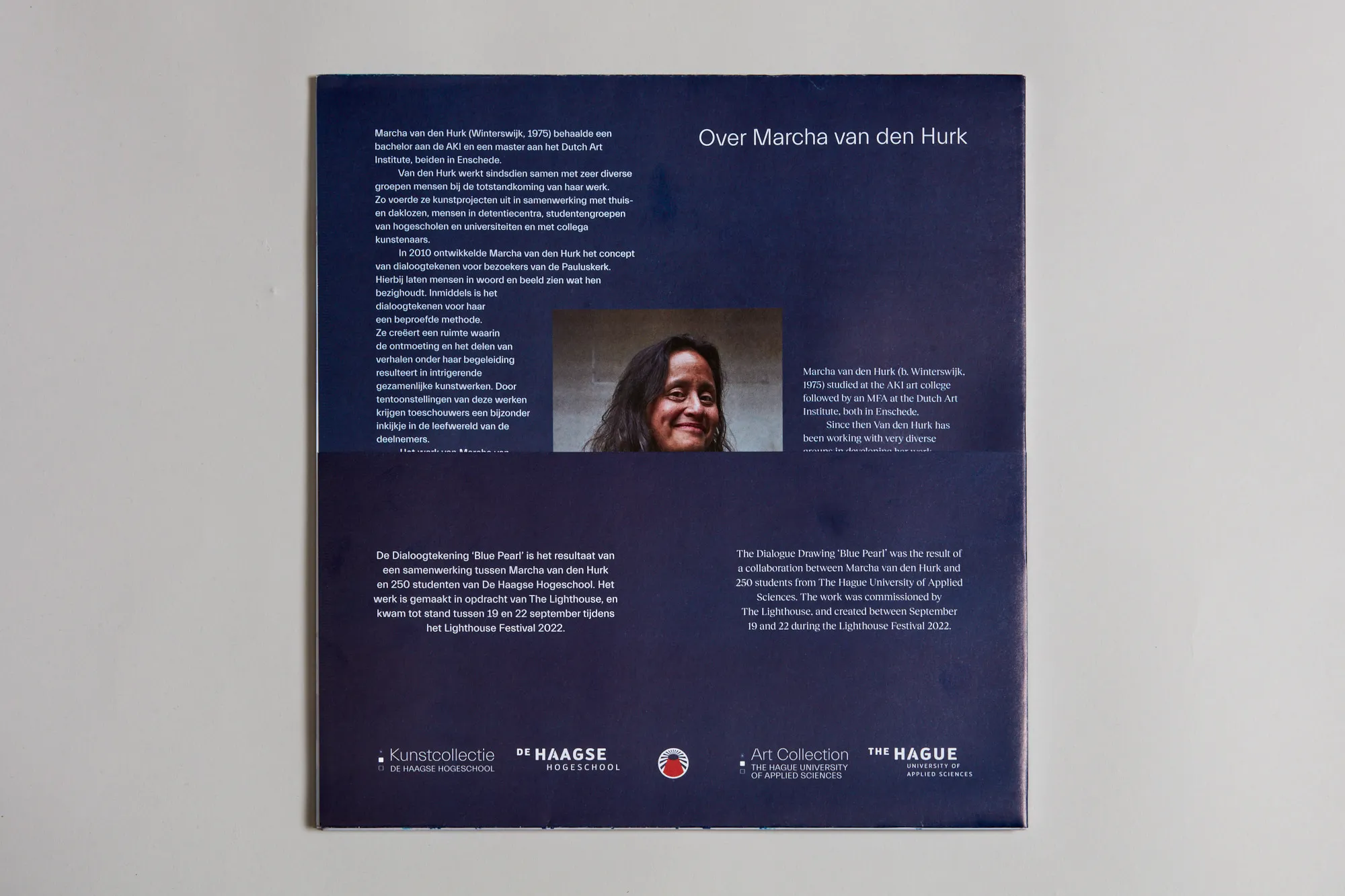 Blue Pearl
by Joris Kelderman
Structured chaos within a crowd of individuals, a busy hum emanating all around – the Atrium of the Hague University effervesces. At its bright red centre point is a large round table, and upon that, an equally large canvas, partially filled in. It's already almost ten when artist Marcha van den Hurk (1975), the facilitator of this participatory artwork, begins the preparations for day three, 'I just need a couple of minutes,' she explains. Today, alongside felt-tip pens, brushes and ink, she also places a calligraphy pen. 'A bit of bait does the trick,' she laughs, referring to goodies such as liquorice, treacle waffles, M&Ms and Anta Flu. 'Yesterday I had tangerines with me as well,' she adds by way of apology for the unhealthy nature of the treats, 'but they're all gone.'
'So what's this fun thing?' asks Ann Baekers from Business, Finance & Marketing. She's on her way to a coffee but has decided it can wait. Marcha explains to Ann how the dialogue-drawing works and that anyone can participate. Ann reads aloud from the canvas, 'It's almost Christmas. Ha ha, that's funny.' She can also appreciate, Teun was here, but she's less keen about a political slogan. 'Pity,' says Ann, 'Well, actually, no,' she corrects herself, 'it's okay to put down whatever you like.' Marcha encourages Ann to join in. 'I almost wanted to write Love,' Ann admits. 'That's the key word that links people together.' In the end she writes Love is all, and Scoob, with a little heart next to it. 'I never wanted a dog – all that hair… But now it's pretty much the love of my life.'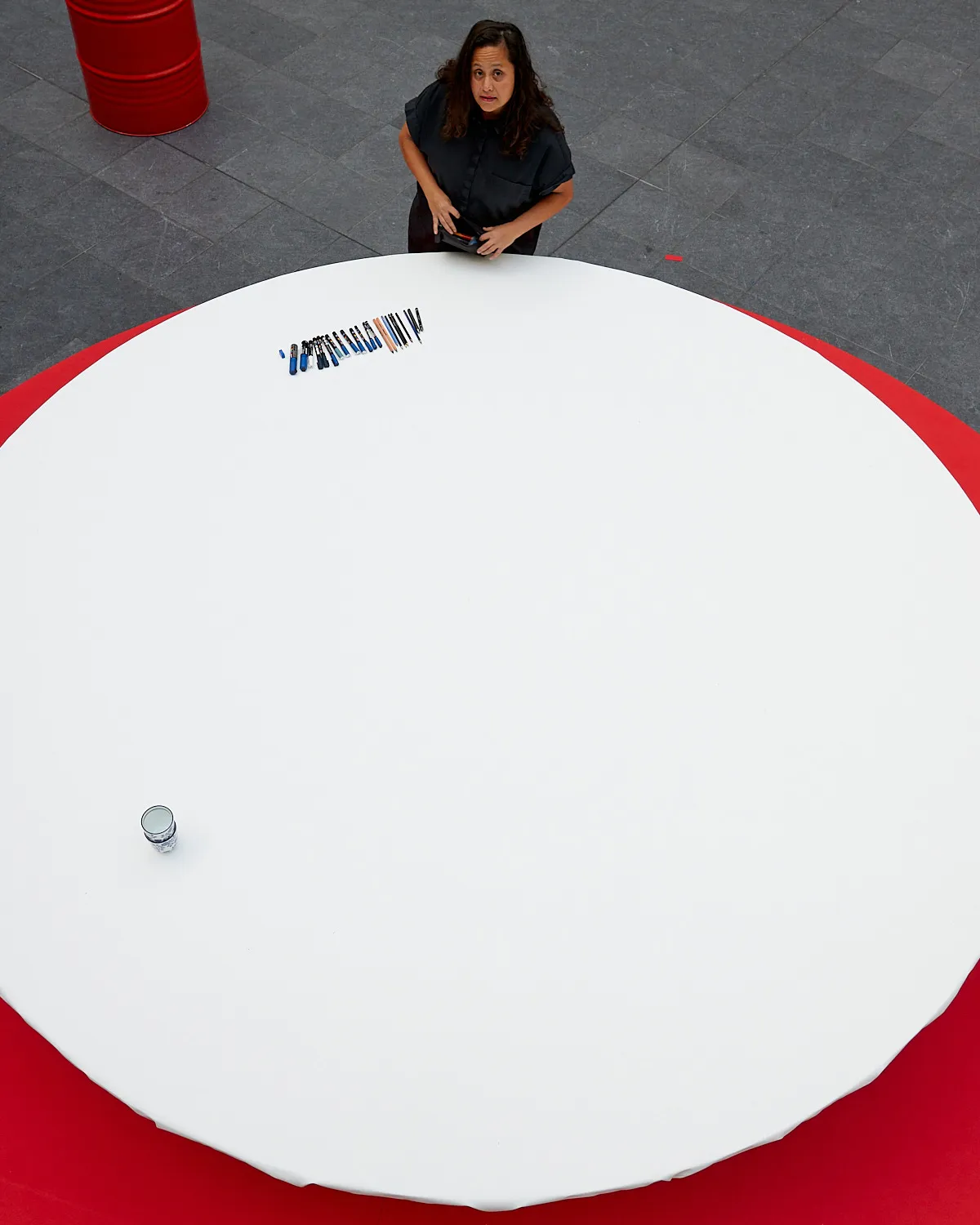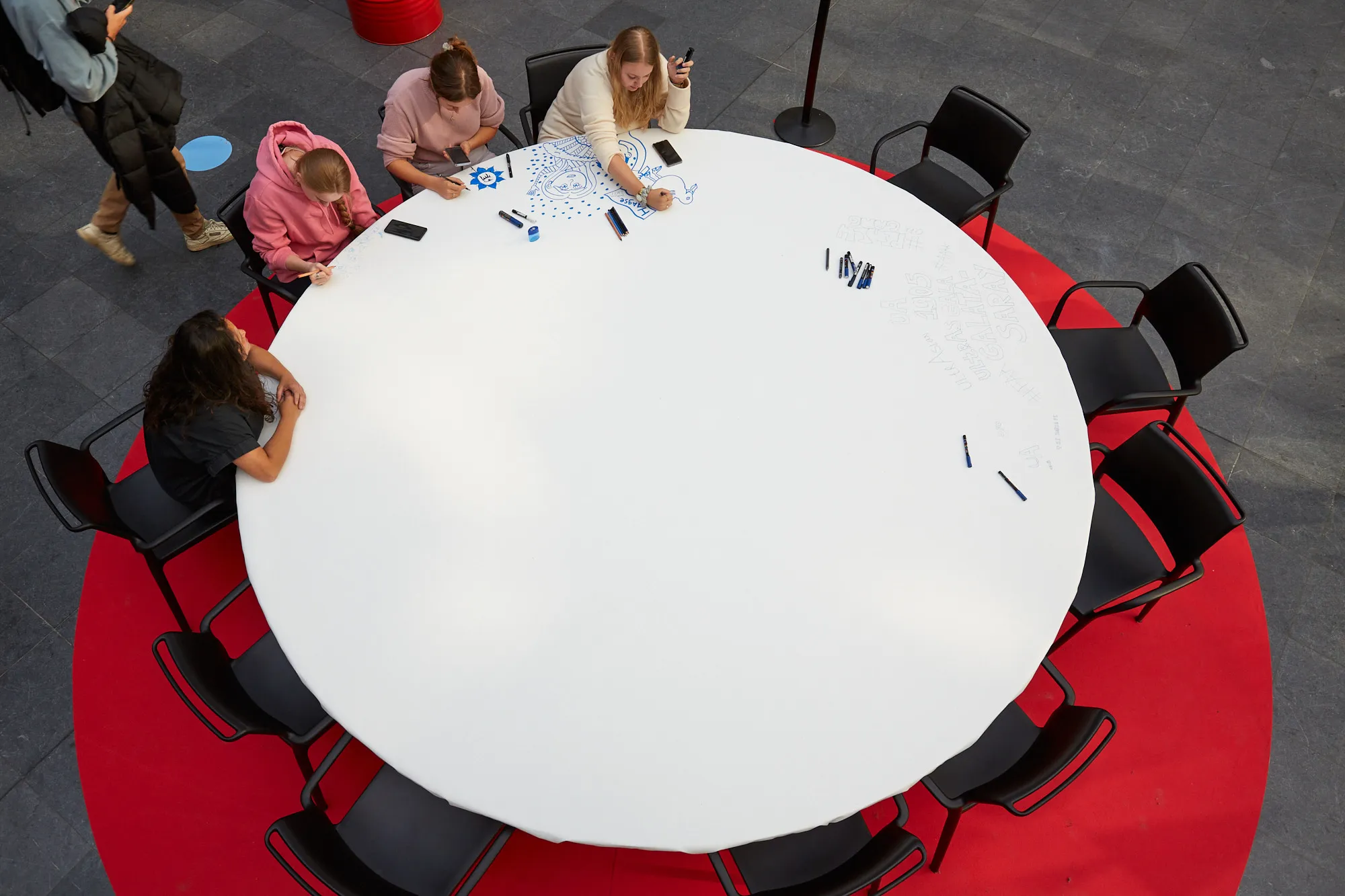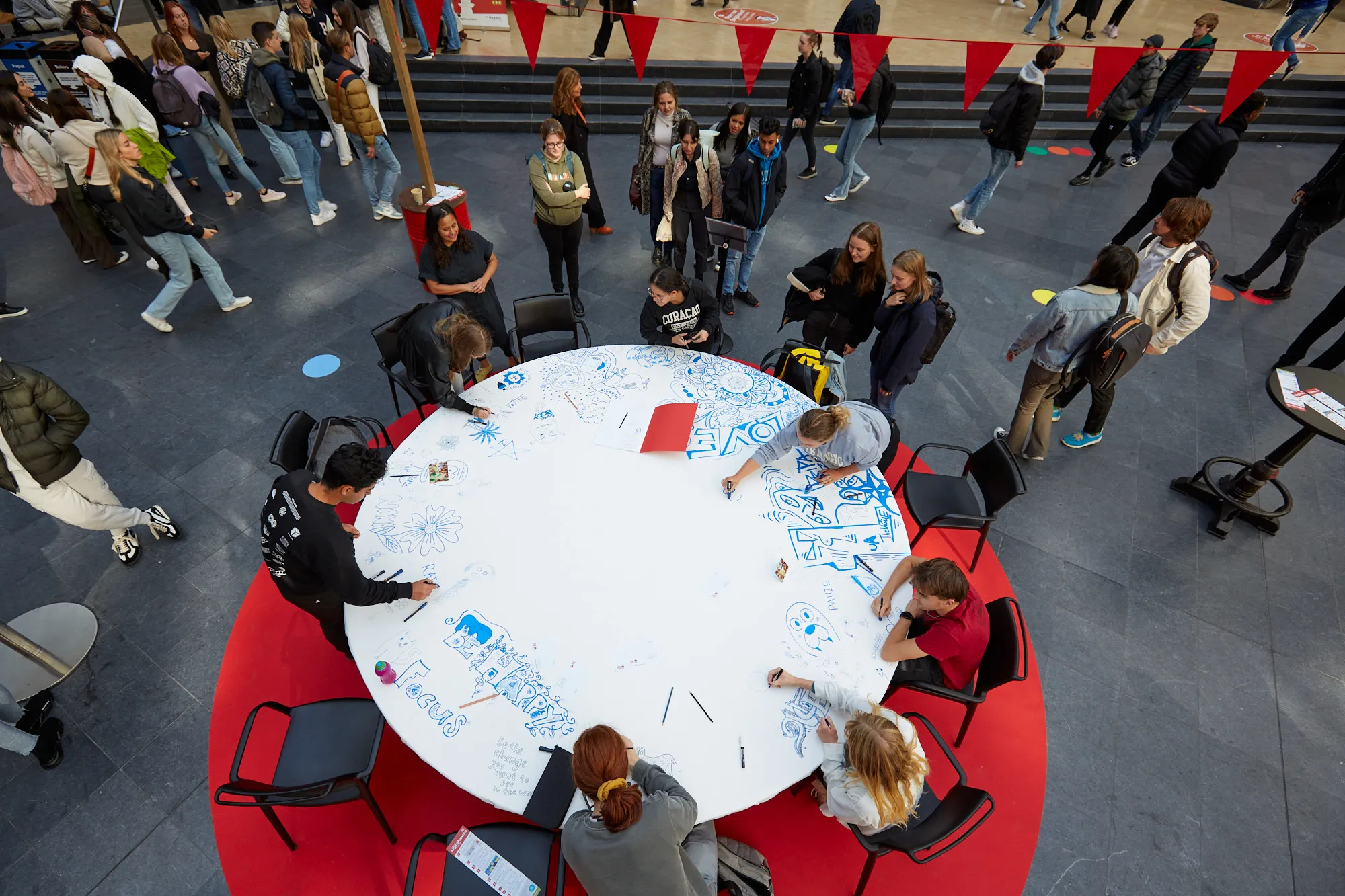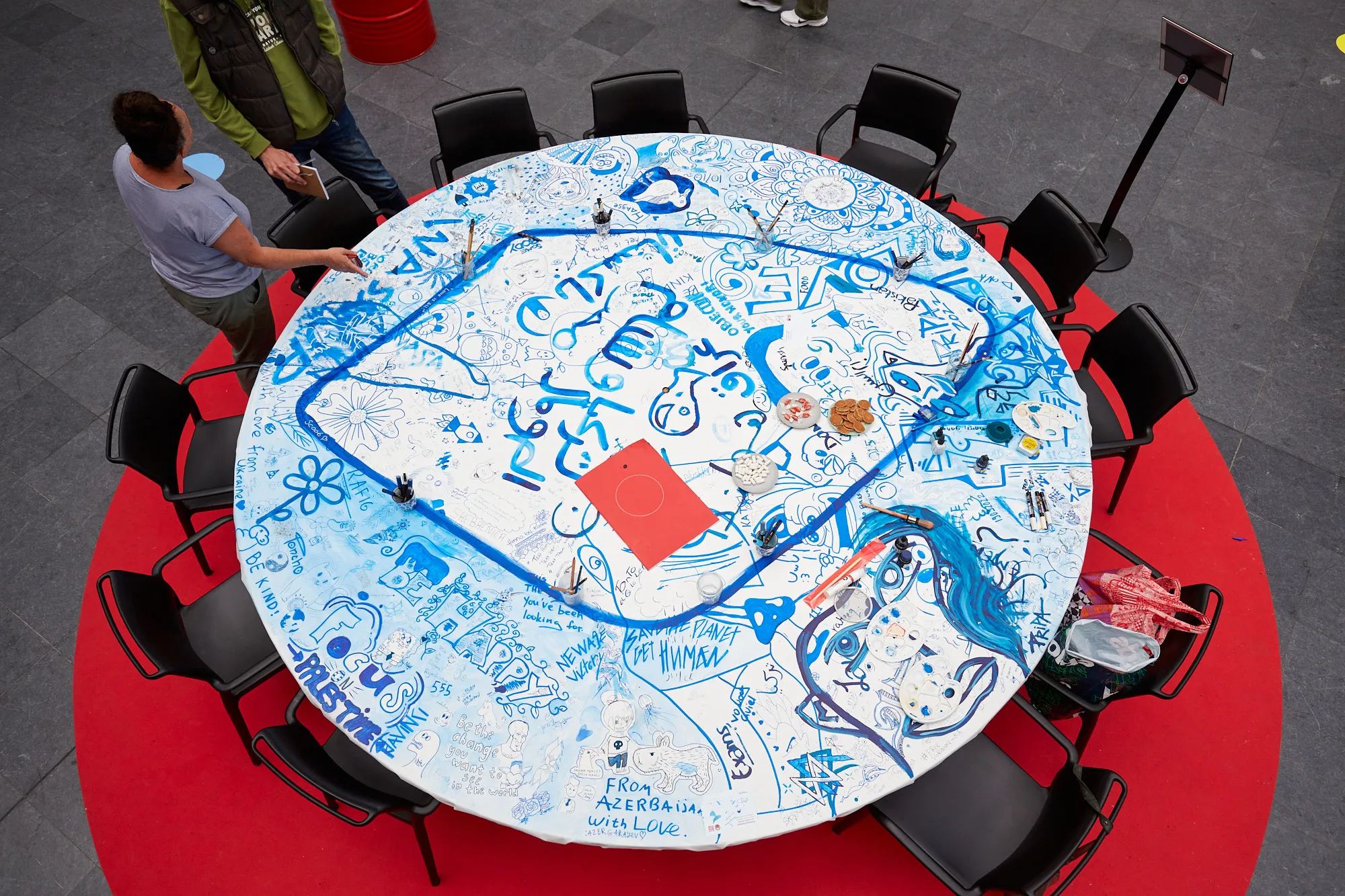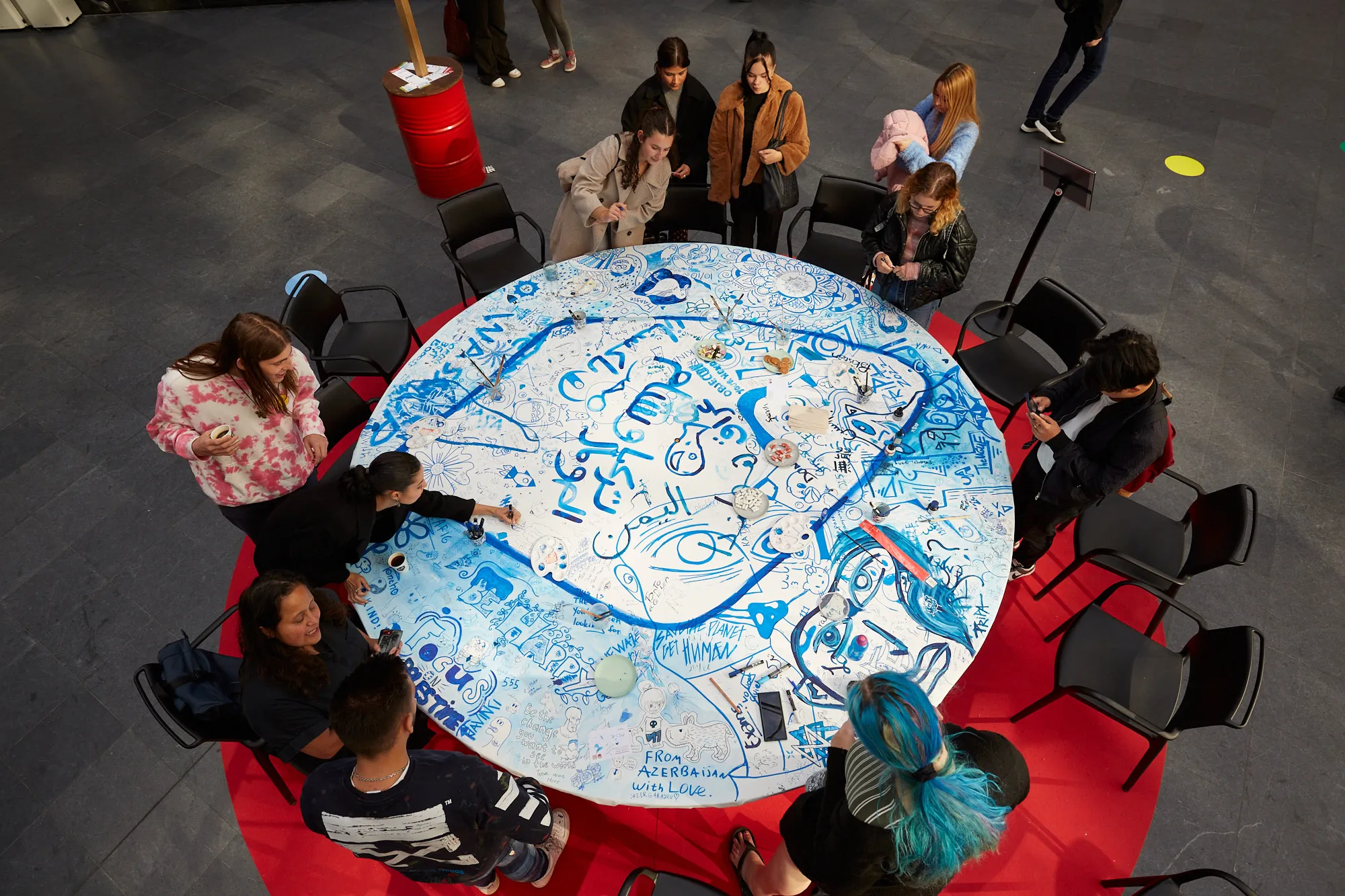 Generally the emphasis is on drawing, but this time it's text. 'It happens spontaneously,' says Marcha. 'I suggest that they draw but most of them come up with a text.' As artist and initiator of this way of working, she keeps an eye on the overall image. A kind of aesthetic oversight, because dialogue drawing is more than just a question of seeing what happens. Intervening in the process is nonetheless a delicate consideration for Marcha. She really prefers to go along with the flow, fitting her interventions into the course of whatever presents itself. So far, to avoid losing all grip on the artwork and it becoming a cacophony, Marcha has only provided the colours blue and white. 'That keeps it less chaotic,' she elucidates, 'otherwise it'll be all over the place.' She can't yet say if she'll stick with those colours or if, tomorrow, on the last day, she will, after all, add a supporting colour. 'There is a strong craving for colour, but I'm not yet decided on how to go about it.'
Gaz has become totally absorbed and doesn't relinquish her seat. The blue goes well with her hair. Other people lay a speedier claim to a portion of canvas, or simply stand and look for a moment before hurrying off to their class. There's no shortage of fans, or of students showing off their contribution. Laura challenges a co-student, 'Try to find mine.' Her friend is dumbfounded, 'Oh my God!' It's an impossible task, especially considering the scale of Laura's endeavour, so she points out a miniscule Brazilian flag, a ditto bunch of grapes and a miniature star-scape. They're all drowning in the sea of other contributions but she doesn't care, 'I'm a person of details,' says Laura, 'catch them and stick to them.' A fitting motto for what Marcha calls 'pearl diving', referring to a way of looking at a dialogue drawing.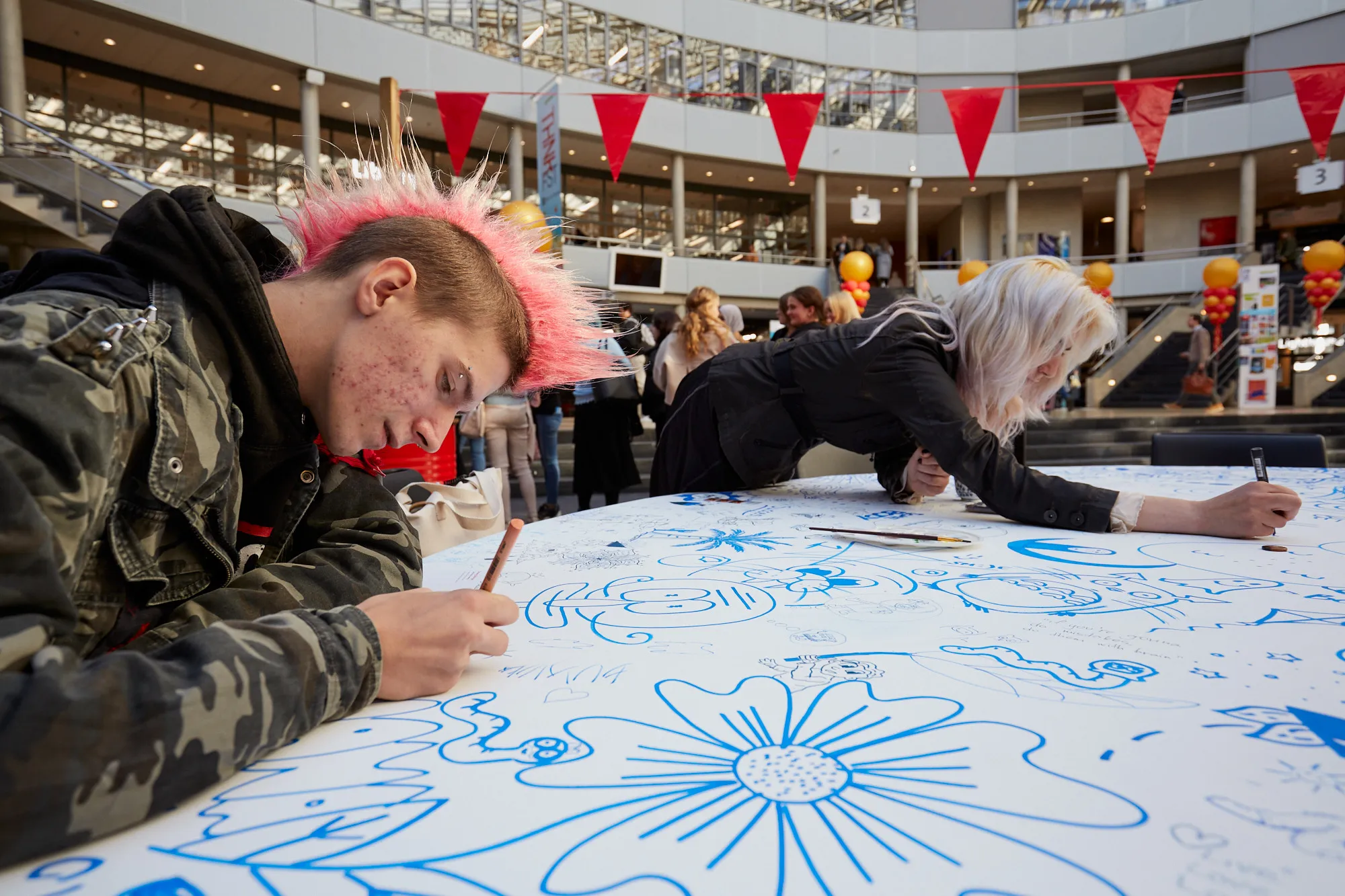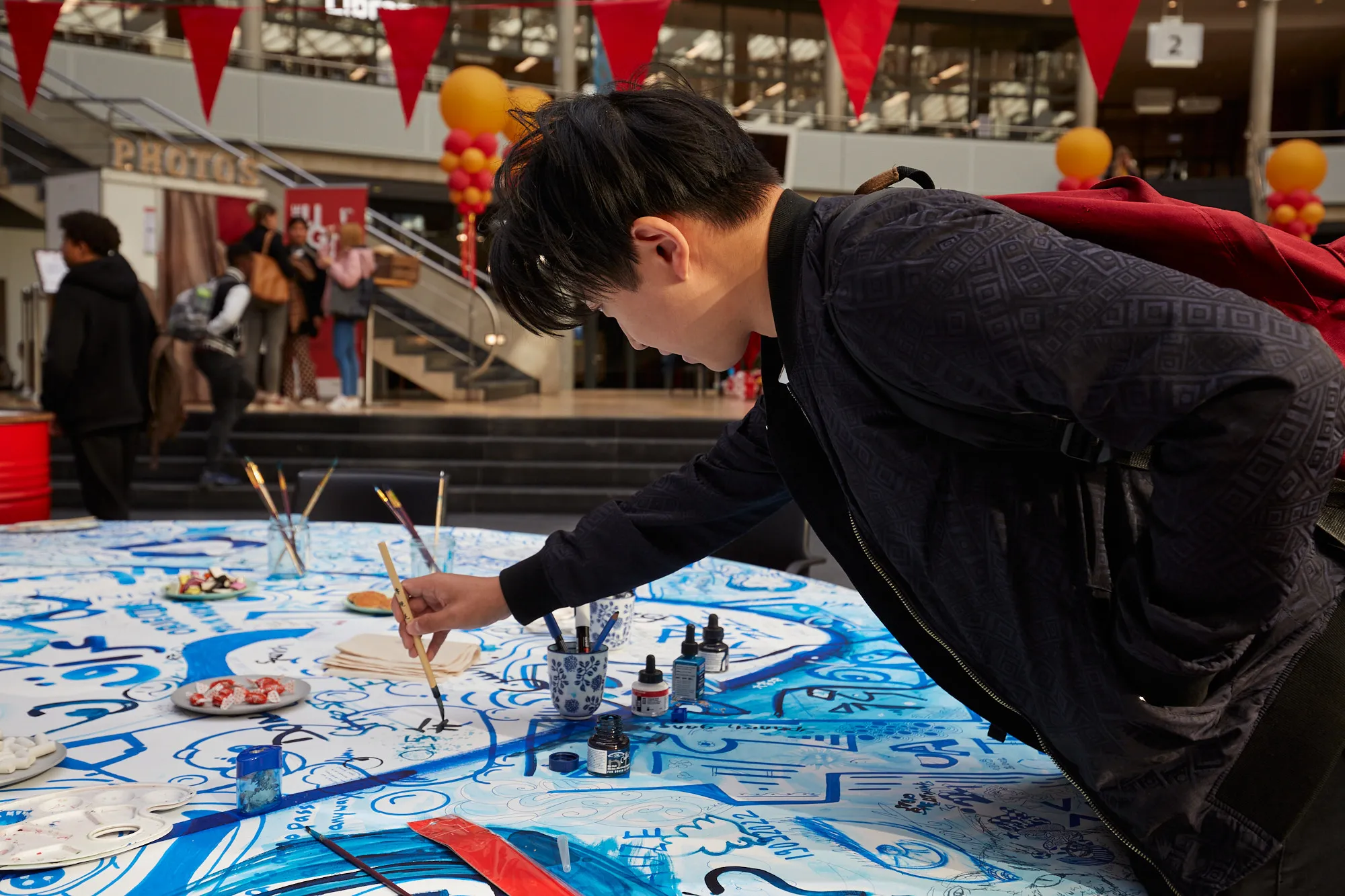 Pearl divers can really indulge themselves here. In the shadow of the attention-grabbing contributions there is a plethora of nuance, diversity and subtlety to be found. 'It's something different,' ascertains photographer Rick. 'What's being achieved here is impossible in the real world.' He's referring to the harmonious coming together of so many different influences. 'Proof that it is possible to break down walls. It can be done.' This is promising considering we're barely three weeks into the college year. Alongside big ambitions and beautiful ideals, there is also hankering after more earthly desires… 'May we all get good dick (or pussy) this year.'
The volume of influences doesn't make interpretation any easier. 'It feels relevant,' says Marcha, 'it's as if it's a blueprint of the World Wide Web.' Peter Hannsen, lecturer in Internationale Communicatie & Management, looks at it from a different angle. He sees an overlap with Creative Design Thinking and possible interesting applications within that sector. 'This is what's currently at play, the work is a reflection of The Wisdom of the Crowd.' As far as he's concerned, an offering such as, People need to start working! It seems like no one wants to work any more, can form the basis for a fascinating discussion. 'The Great Resignation is a very topical theme on the job market – what is it that makes people quit?' Hanssen sees a connection to the corona pandemic. So does Rick, 'For the last two years we have mainly been online, without social contacts. The new batch of students have no reference point marking how it was before.'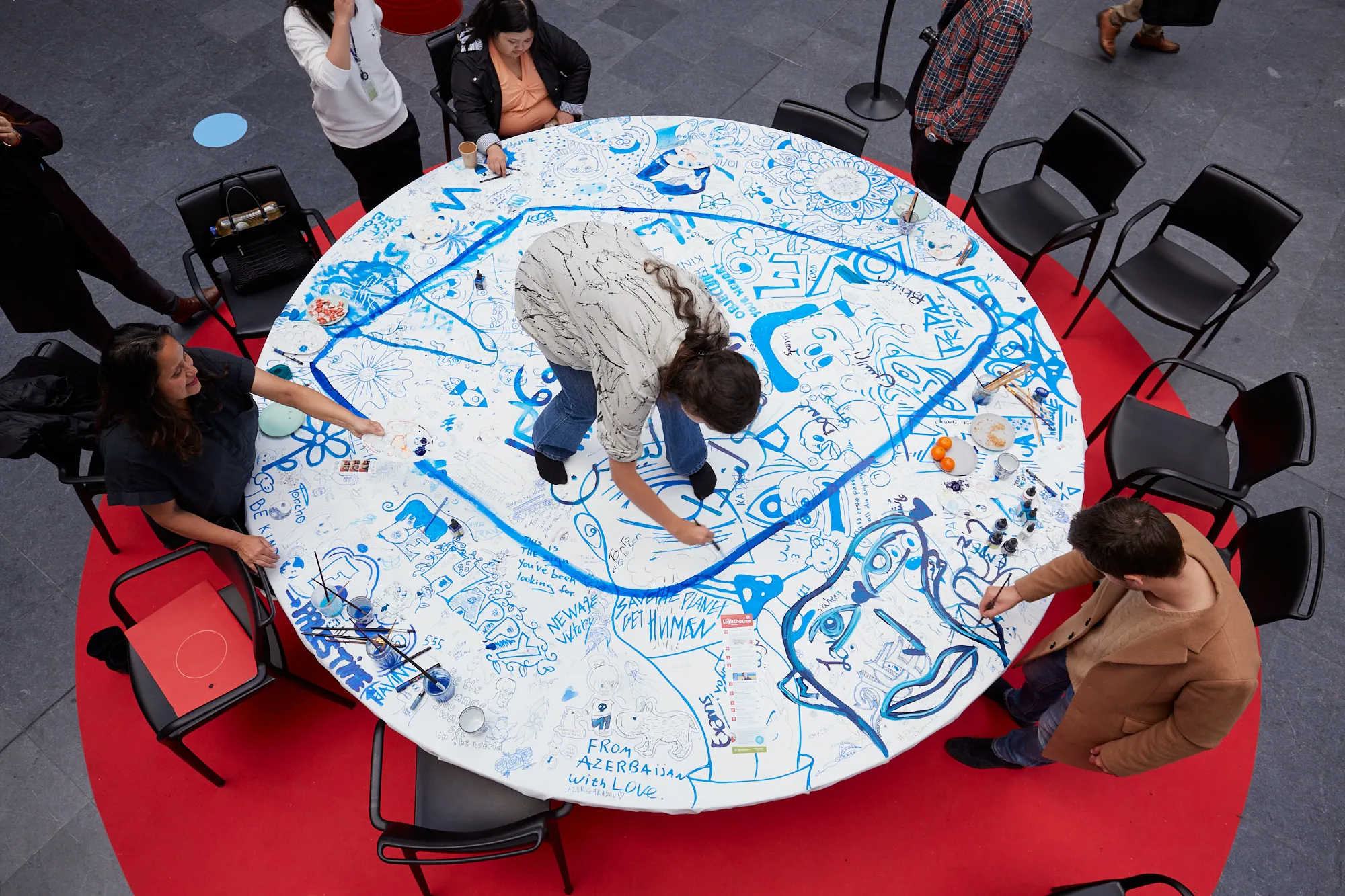 Participation in the dynamic artwork noticeably helps students in polishing up their social skills. Interaction is practically guaranteed (though solitary participants simply keep their headphones on). Lecturer Rochus van der Doef finds it fascinating. 'It looks to me like a port of refuge – a place within the school where there is space for play within all that structure.' A good balance is important, that's why he recently added the Philosophy of Technology to his portfolio alongside Mathematics and Statistics. 'Sitting doing sums all day is no good,' says Van der Doef. He enjoys seeing the students so concentrated on something unrestricted. 'Very funny. The proto-game element makes me think of nursery school. It makes them happy!'
And yet there is a deeper layer buried within the creative pleasure. The window that has been applied to the middle of the drawing represent the reflective glass of a pair of sunglasses and symbolically separates the internal and external worlds from one another. The idea for this theme was brought in by one of the participating students and seized upon by Marcha. The dialogue drawing means by far the most to those who are involved in a personal struggle between what is going on inside and that taking place outside. Through contributing to a dialogue drawing they are able to build those oh-so-lacking connections toward fulfilling contacts. A far-reaching experience as evidenced by someone like Gaz when she, in a sort of farewell ritual, goes to stand in front of the museological final result, spreads her arms wide and allows the breathtaking canvas into her heart, knowing that in this blue pearl an important part of herself found a meaningful connection.